About
Women's Leadership Edge
W
omen's Leadership Edge is a membership program to take your organization's commitment to advancing women to the next level. Members receive practical evidence-based tools not only for women, but also for sponsors, mentors, professional development directors, and organizational leaders to enable your organization to effectively retain, support, and advance women from within.
The content is designed for a broad audience, and our online member portal means that anyone and everyone in your organization can easily utilize our high-quality programming.
Learn more about our Membership Benefits
An Initiative of The Center for
WorkLife Law

The Center for WorkLife Law is an advocacy and research organization at UC Hastings Law that seeks to advance racial, gender, and class equity. At WorkLife Law, we address inequality at a structural level by developing and implementing concrete, evidence-based interventions in schools and workplaces and changing public policy at the state and national levels.
We are extremely strategic in how we approach each structural intervention, forging partnerships with grassroots groups and field experts to identify the best change levers to tackle the problem at hand. With our interventions, we aim to produce dramatic changes within a two to five year timeframe. Our main areas of impact are economic security, maternal & child health, education equity, and racial and gender justice in the workplace. Throughout the pandemic, our team has also mobilized a COVID-19 emergency response, applying our legal expertise to help protect workers' rights during the crisis. For more, visit worklifelaw.org.
About
Joan C. Williams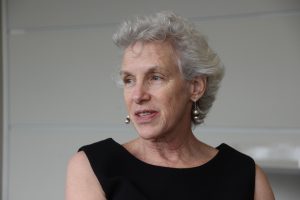 Described as having "something approaching rock star status" in her field by The New York Times Magazine and as a "global thought leader on diversity" by Kédar Iyer, GapJumpers CEO, Joan C. Williams is a Distinguished Professor of Law and Founding Director of the Center for WorkLife Law at the University of California, Hastings Law.
Williams has been on the forefront of research focused on how gender and racial bias plays out in everyday workplace interactions for over two decades and has co-authored a series of influential reports on workplace bias in engineering, tech, architecture, and the legal profession. She is widely known for "bias interrupters" – an evidence-based metrics driven approach to eradicating implicit bias introduced in the Harvard Business Review in 2014. The website biasinterrupters.org with open-sourced toolkits for individuals and organizations has been accessed over 230,000 times around the world and has been so influential in Europe that she was awarded an honorary PhD from Utrecht University in 2018.
Williams' work is well-known among business leaders, HR professionals and individuals. Williams has published 30 articles in the Harvard Business Review, including one of the most-read articles in its 90 year history. Her TED talk, "Why Corporate Diversity Programs Fail – and How Small Tweaks Can Have a Big Impact" was viewed over three quarters of a million times within one month of being posted. Her most recent book, Bias Interrupted: Creating Inclusion For Real and For Good (forthcoming Fall 2021), offers a fresh approach to inclusion that is concrete, evidenced-based and actionable.
Williams' expertise is highly sought-after by companies and organizations seeking to make tangible progress toward their diversity, equity, and inclusion goals. Williams and her team have worked with 40+ organizations leading trainings, conducting research, developing innovative change initiatives, and implementing practical tools that will work within the specific industry or organization. Williams' bias interrupters workshop has been very positively received in environments that are not particularly open to diversity workshops. In a recent session, 100% of participants said they had a better understanding of how bias affects people as a result of the workshop, 96% said they learned new strategies for interrupting bias and 87% said they were likely to use them going forward.
Meet our
Team
Jamie Dolkas
is the Center for WorkLife Law's Director of Women's Leadership and an Adjunct Law Professor at UC Hastings College of the Law. Jamie is an attorney specializing in employment and civil rights law, with a focus on sex discrimination in employment and education. Jamie leads all aspects of WorkLife Law's programs and strategy relating to elimination of bias, improving diversity and inclusion outcomes, and advancing women in the workplace. Her projects include:
• Bias Interrupters, a data-driven model for addressing workplace diversity; selected by Dalberg and The Rockefeller Foundation from 50 leading progressive initiatives as a "Big Bet" inspirational idea increasing women's representation and empowerment in STEM;
• Hastings Leadership Academy for Women, an executive training program for law firm partners and in-house corporate counsel; and
• Women's Leadership Edge, a membership program providing research, tools, and training to help organizations advance women and promote diversity, equity, and inclusion.
As an adjunct professor at UC Hastings, Jamie teaches Leadership for Lawyers, a professional skills course equipping students with essential tools for career success, and is a guest lecturer for Gender and the Law. Prior to joining WorkLife Law, Jamie was a Staff Attorney at Equal Rights Advocates, a national civil rights organization dedicated to advancing gender equity in education and employment. Her practice focused on sex discrimination litigation, best practices training, and legislative advocacy.
Jamie has written several publications, including Expecting A Baby, Not A Lay-Off: Why Federal Law Should Require the Reasonable Accommodation of Pregnant Workers, and a chapter in the anthology, The Opt Out Revolution Revisited, co-authored with Professor Joan C. Williams. She graduated with highest honors from the University of California, Berkeley, and cum laude from the University of California, Hastings College of the Law. She's a graduate of the Women's Policy Institute, a year-long legislative advocacy training program for women leaders.
Chelsey Crowley
Development & Communications Specialist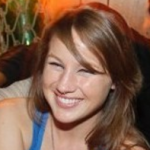 Chelsey Crowley is the Center for WorkLife Law's Development & Communications Specialist, managing our women's leadership programming including Women's Leadership Edge and our annual flagship program, the Hastings Leadership Academy for Women.
Prior to joining WLL, she worked in both research and publications at the Center for the Study of Women at UCLA, an internationally recognized center for research on gender, sexuality, and women's issues. Prior to that, she interned at Home Street People's Ministry, a small grassroots organization in Salt River, South Africa, focused on community youth and issues of hunger and poverty. A student of international human rights, Chelsey graduated Phi Theta Kappa from Chaffey College and magna cum laude from UCLA, with high honors and distinction.
Joahna Cervantes
Program Associate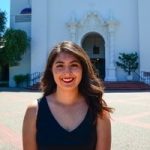 Joahna Cervantes is the Program Associate at the Center for WorkLife Law. Joahna assists in managing outreach and partnerships with external stakeholders, plans special events and oversees long-term projects. Before joining WorkLife Law, Joahna was a Program Coordinator at Girls Inc. of Alameda County. As the Program Coordinator, Joahna connected high school girls with summer internships, developed workshops on women in the workplace and partnered with organizations and professional women to provide mentoring opportunities. While at Girls Inc., she explored more about the common experience many professional women live through in the workplace, especially women of color. Her passion for gender and racial equity stems from her academic background and her own personal experience as a Latina. Joahna graduated cum laude from Saint Mary's College of California, where she majored in Politics and minored in Women and Gender Studies. Her time in college exposed her to great internships with organizations such as Mujeres Entre Mundos, Fair Trade USA and the San Ramon Unified School District.

Members